I love lists! They are easy to read, they remind you to do things, and they look pretty! Since I love lists so much, I decided that Tuesdays should be deemed
Top Ten Tuesday
and I will do a Top Ten list on various topics that I or you come up with.
There is already a blog hop put in place and everything!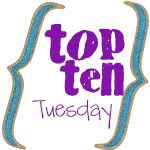 So, without further delay, here it is -
10 Things every Momma Should Have
1.
An Amazon Mom Account.
Not only can I order diapers, wipes and breast milk storage bags online, but I get Amazon Prime for FREE and I get a huge discount when I stack my amazon mom discount with the subscribe and save discount. If you aren't a part of Amazon Mom yet, do it - right now!
2.
A great pair of yoga pants and several of them!
Once you find the right pair - get about 10 of them! Nothing beats the feeling of peeling off my work pants and pulling on my yoga pants after a long day. The right pants should feel "like buttah" as I like to say! They are the standard uniform for my second full-time job as Mom and in them I can tackle anything from laundry to dinner and from temper tantrum to dance party time!
3.
A large (28- 32oz) refillable water bottle.
The University I work for has installed water bottle filling stations throughout campus which makes it so easy to get the recommended 8 glasses of water each day. Pair that with a large water bottle and you are gold - Stay hydrated!
4.
A pair of comfy shoes that stay in the car.
Have you ever felt stranded in your shoes? Keeping an extra pair of shoes that are comfortable and easy to walk in are a life saver. I also keep some in my desk at work as well.
5.
A Smart Phone.
Need to call poison control, google a recipe at the grocery store, or get directions to a birthday party? Yeah, you need a smart phone!
6.
A membership to your local Children's Museum or Amusement Park.
Not only are these great places that keep your kids entertained and active, but the memberships also get you in to fun festivals or special appearances by your kids' favorite character. The memberships pay for themselves in only a couple of visits and usually come with guest passes so you can bring friends!
7.
A Hobby.
Whether it's scrap booking, photography, blogging, or jogging, a hobby gives you precious time to yourself to do what you want to do - without children tugging on your shirt!
8.
A Mini HD Camcorder.
Such as the Flip. Never miss a recordable moment! These camcorders fit in your purse, hold up to 2 hours of footage, connect right in to your computer, and comes with editing software so that you can make cute videos. I wouldn't call myself technologically advanced and I can do this!
9.
A masseuse.
Whether you treat yourself at the spa or you enlist your partner (I tell my husband it was a part of our marriage vows, right there along with accepting children lovingly into our lives), or both - get a massage, it's a neccesity!
10.
A Sense of Humor.
When the kids go crazy and your world is insane, the best defense known to man is a good sense of humor! My favorite thing in the universe to do is laugh, so when I dump an entire cup of milk all over myself because the top wasn't on quite right or trip over the same toy that has been sitting in the middle of the room for a week and I feel like crying, I stop, breath in and out, and the laugh!